SOFA CLEANING SERVICES IN PUNE
Sofa is said to be the heart of your living room. You spend most of your time on it, watch TV sitting on the sofa, attain your guests while sitting on the sofa, you take your afternoon nap on your favourite sofa only and do such many more things it.
Usually most of the homes have sofa set. Irrespective of the size of the home, you find a set of sofa in the house.
It comes in different sizes such as single seater, 2 seater, 3 seater, L shaped, corner, recliner etc.
You may choose the sofa for your home considering the space available in your room, colour of your choice, fabric quality, your requirement, your preferences, your budget etc.
We have written a detailed article on things to look for when buying a sofa. Do check it out!!
An eloquently fitted sofa magnifies the look of your house.
There are many people who are very sure to clean their bathrooms every couple of days to make sure that they keep bacteria and other problems away, but many of the same people forget about sofa cleaning.
Even the cleanest people may forget that upholstery cleaning is an important part of keeping your house clean and a healthy place to live.
There are a variety of health benefits that actually come from having upholstery cleaning, sofa cleaning, carpet cleaning and chair cleaning done regularly.
Cleaning your sofa is very important and it is essential that you realise this and have your sofa cleaned for a variety of reasons.
The following are the answers to variety of upholstery cleaning questions that can help you understand it's importance.

What Is Sofa Cleaning?
While you don't like to wear dirty clothes, how could you sit on a dirty sofa?
Just like you clean your clothes every time they get dirty, you should consider cleaning your sofa whenever it gets dirty.
Even though the dirt is not visible to your eyes, it doesn't mean your sofa is completely dust free.
Unlike other clothes, your couch has a thick layer of foam under the cover of a fabric. Whenever dust settles on the sofa, it's very tiny particles goes inside the foam and gets trapped inside.
You can not wash your sofa like you wash your other clothes. Cover of your upholstery can not be removed in most of the cases. You can not remove the fabric very easily, wash it in washing machine and put it back on the couch. It's not a very easy process.
If you try to clean the sofa while keeping the fabric on the sofa as it is, you will require special care to be taken in terms of chemicals and equipment used.
Also if it remains wet for longer time, it gets damaged easily. The water and moisture will cause forming of mold, mildew and stains on your couch.
Sofa cleaning in Pune should be done with cautious or should be done from professional cleaners only.
Sofa Dry Cleaning process is basically extracting the dust from within the couch. As it is very clear that we can't wash it like we wash other normal clothes, it requires special procedure and special equipment and machine for cleaning.
The process is injecting the cleaning chemical inside the foam and extracting it using high power vacuum cleaner so that the dust comes out from within.
If your upholstery is cleaned this way, there won't be any problem of discoloration, shrinkage or damage. It will be dust and dust mites free from within too.
Why Should You Go For Sofa Cleaning Service In Pune?
The best way to avoid your sofa getting dirty is by keeping it under the wraps. But is it really possible? No, right?
So what can one do to avoid getting it dirty?
Actually there are few things you can do such as not allowing anyone from your family to have food on the couch, not touching it with dirty hands, attaining the spillages immediately etc.
But it is not possible to avoid these things completely all the time.
Your sofa is bound to get dirty. So the best option is to get the couch professionally cleaned.
The number one reason that you should make sure that you have sofa cleaning service done on a regular basis is to make sure that you have clean air in your home.
Air quality is very important in your home and sofa cleaning can help you keep the air at its best.
Dust and bacteria can get trapped in your upholstery on chairs, couches, sofa, carpet and other furniture and cause breathing and allergy problems.
Having it cleaned can improve the air and help decrease allergies and other breathing problems that your family may have.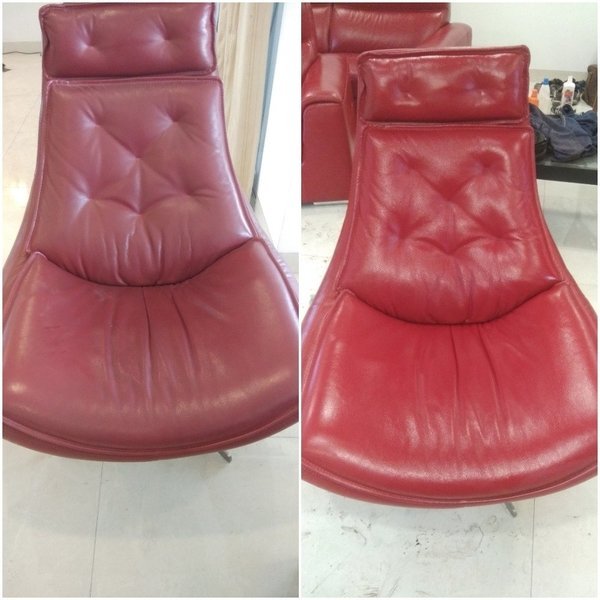 How Often Should Sofa Cleaning Be Done?
How often you should clean your sofa has one straight forward answer as 'whenever you sofa gets dirty'.
The detailed explanation to this is we should clean our sofa quite often than you might think.
We wash our clothes very regularly. We wash our clothes wherever they get visibly dirty. But we also wash them even if they are not visibly dirty.
The reason is that we know that even our clothes don't show any visible stains, they are still dirty with our body odour, sweat odour, deodorant smell etc.
Also as we have used them outside our home, the dust has gone into the fabric of the clothes and hence we wash them often.
The same is the case with your sofa. It should be cleaned immediately whenever someone spills something on it or your pet pees on it or you see any kind of visible stains on your couch.
It also should be cleaned even if you do not see any visible stains but it has been while since you have got your sofa cleaned.
Unfortunately, some people actually never bother to have upholstery cleaning done.
But you should actually have sofa cleaning done on your furniture every year minimum.
Every year is great, but at least have it cleaned every two years.
Just starting to have sofa cleaning done every year can reduce the problems with the air quality in your home.
Types Of Sofa Fabric
The interest for sofa furniture has gone up by multi folds as needs and lifestyle of individuals have changed. Today, individuals don't simply need their furniture to be slick, but they additionally need it to be comfortable.
Sofa is found in various structures, styles, colours and patterns. The fabric of sofa is also of many different types.
The different types of sofa fabric are Leather, Polyester, Acrylic, Acetate, Olefin, Rayon, Wool, Cotton, Silk, Linen, Velvet, Jute, Chenille etc.
Each type of fabric has its own characteristics, pros and cons as well.
While leather sofa is very easy to clean, long lasting and pet friendly, it is also one of the expensive types of sofa and gets damaged easily with sharp objects or when exposed to sunlight.
Microfiber sofa is stain and abrasion resistant but also flammable in nature.
Use of the sofa (formal or casual), regardless of whether you have pets or not, how easy it is to clean the fabric, stain resistance property and last but not the least, the cost are some of the factors to be considered while selecting the type of fabric for your upholstery.
The correct decision of selecting the sofa fabric is as significant as selecting the design in the event that you wish your sofa to last longer.
Read our detailed article on 'Types of Sofa Fabric'.
How To Clean Sofa At Home?
There are number of ways your sofa can get dirty.
Your pet might make it dirty with its dander or pet hairs or your child drops some food which goes into the cracks. Many ways it can become dirty.
Here are few suggestions for DIY sofa cleaning at home.
Method 1-
If your sofa has only dust or food particles or pet hairs, you can just use a vacuum cleaner and suck the dust and food particles from the sofa.
To remove the pet hairs, you can use lint roller that you can purchase online from Amazon or Flipkart.
Method 2-
If your couch has stains, then you have to use a liquid solution to clean them.
For fabric type of sofa, take ¼ cup of vinegar, ¾ cup of warm water and 1 tablespoon of any dish liquid soap and mix them in a spray bottle.
Now spray the solution onto the stains and rub with sofa microfiber cloth until the stain is lift off. Then dry the spot with a microfiber towel.
For leather type of sofa, use ¼ cup of vinegar with ½ cup of olive oil and mix it in a spray bottle. Shake it well.
Now spray this mixture on the sofa and buff it with a clean microfiber towel.
Why Avoid DIY Sofa Cleaning At Home?
As suggested above, you can clean your sofa at your home. But there are certain things you need to take into consideration before trying these DIY tips.
The very first thing you should keep in your mind is that you are not a professional in this process. So don't try anything unless you are damn sure. The risk is with the chemical you use for sofa cleaning.
Professional sofa cleaners in Pune use professional grade chemicals while you may not have access to these industry grade chemicals specially made for sofa cleaning.
You will use some home made products or any brand product that is available in your local store. These products may not perform like professional grade chemicals.
Also to suck the chemical out of your upholstery, you will use a vacuum cleaner.
But the household vacuum cleaners are not that powerful just like industry grade vacuum cleaners are. Their suction capacity is very low.
So use of such low power vacuum cleaner may leave some water and chemical residue into the sofa which may result into forming of mold, mildew.
The other tools you will use such as sofa brush or upholstery brush should be appropriate for the use on various types of sofas.
While using them on your couch, an apt pressure should be applied which professionals know very well but you may not.
If you apply more pressure than required, you may cause damage to your sofa.
Also, professionals use other special types of products with respect to type of sofa fabric or some stain removers which you may not have access to.
So it's always better to go for professional sofa cleaning services in Pune only rather than damaging your sofa.
Should You Hire A Professional Sofa Cleaning Service in Pune?
While some people may say that you can do upholstery cleaning by yourself, it is actually best to have professionals do it for you.
Professional sofa cleaning services in Pune have the equipment, knowledge and the right cleaners to do the very best job on your upholstery.
While it probably would be cheaper to do it yourself, more than likely you would not get rid of the allergens that are lurking in the depths of your upholstery and that is the primary reason for having upholstery cleaning done from professionals.
Spend the money and have Dirtblaster's Professional Upholstery Cleaning Service In Pune do the job for you.
There is no one fits all formula when it comes to sofa cleaning. The process and chemicals used vary as per the material the sofa is made up of.
At Dirtblaster Cleaning Services, we know the exact procedure to clean various sofas without damaging it.
In fact, in homes that have carpet, up to 80% of the dust and dirt brought into your home could end up in your upholstered fabrics and furniture.
But you don't have to accept the fact that your furniture is going to be dirty.
Why Us?
Dirtblaster Cleaning Services provides you with refreshing sofa cleaning service in Pune that extend the life of your furniture and is safe and healthy for kids and pets.
We will send a professional sofa cleaner to refresh and clean your furniture, bringing new life to your living space.
Once cleaning process is complete, your sofa will be dry quickly so it's ready to be used by you and your family again as soon as possible.
Dirtblaster cleaning services is one of the most popular cleaning services companies in Pune.
We use industry grade chemicals from Diversey company and other tools we use are also of professional grade.
We have in house team only and our team members are trained and experienced.
All our staff members are background verified.
We have standard pricing for the tasks which is told to the customers before start of the job.
We guarantee 100% satisfaction on all our services.
Our sofa cleaning services in Pune are strong enough to clean the deepest stains, gentle enough not to damage sofa and safe for your entire family.
Dirtblaster Cleaning Services offers a range of professional upholstery, sofa shampooing, chair shampooing and carpet cleaning services for both residential and commercial properties.
Sofa Cleaning Process
Below is the process that we use to clean your sofa.
1. Dry vacuuming to remove the loose dust and debris.
2. Removing the dust and other particles stuck in crevices of the sofa using dry vacuuming.
3. Applying sofa shampoo to and scrubbing it using soft brush.
4. Then wet vacuuming of the sofa that is sucking the chemical out using wet and dry vacuum cleaner.
5. Applying the stain remover chemical for the stains that are still not removed and repeating the same process mentioned above.
6.Cleaning the floor.
Once sofa cleaning is done, it takes approximately 4-6 hours to dry it completely. Sofa should not be used till it is completely dry.
In case of leather sofa, once sofa shampooing is done, we apply professional leather polish too.
How Much Does It Cost To Get A Sofa Cleaned?
The price of sofa cleaning service in Pune varies depending upon few factors.
The factors that decide the price are size of the sofa in terms of number of seats, the type of sofa and the dirtiness too.
As the process to clean a fabric sofa is different from cleaning of leather sofa, the cost also varies for both types of sofa.
Normally we charge on 'per seat basis'.
For fabric sofa cleaning in Pune, we charge Rs. 150 per seat.
For leather sofa cleaning in Pune, we charge Rs. 200 per seat.
Frequently Asked Questions
Q. How much time does it take to clean a sofa?
A. It depends on the size of the sofa. Generally, to clean a 5 seater sofa, it takes approximately 45 min to 1hr.
Q. How much time does it take to dry the sofa?
A. It takes approximately 5-6 hours under the fan to dry it completely.
Q. Are cushions included in this price?
A. Cushions are charged extra at Rs. 50 per cushion.
Q. What does customer have to provide?
A. We just require a bucket with warm/cold water & electricity supply from